Posted in
Numérique
Help to confirm a bug before submitting to github
Hi, I would like some confirmation of a strange behavior under Peertube version 4.3.1 (under docker) and now 5.0.1 (on bare metal). I've observed it under various MacOS and Windows web browsers.
When I search for a known collection of playlists (there are 5 in public mode), the results page only displays the first 2 of them. If I click on the filter button, the page « grows up » and Peertube loads the 3 other playlists if I scroll down.
Same behaviors if I'm logged out or in.
Same occurs also when I browse the new channel page (see the capture below, where only the « Histoire » channel is loaded and the counter displays 35 channels.)
But strangely, the Playlist page acts as expected, loading all the playlist if I scroll down.
How to reproduce it :
go to tube.reseau-canope.fr
search « pix » in the search bar : you will only get 2 results
click the « Filter » button to expand it section, then scroll down the page : the 3 other playlists appears
Could someone confirms this behaviors on his browser, and maybe on other Peertube instance before I submit an issue on github ?
Thanks. Eric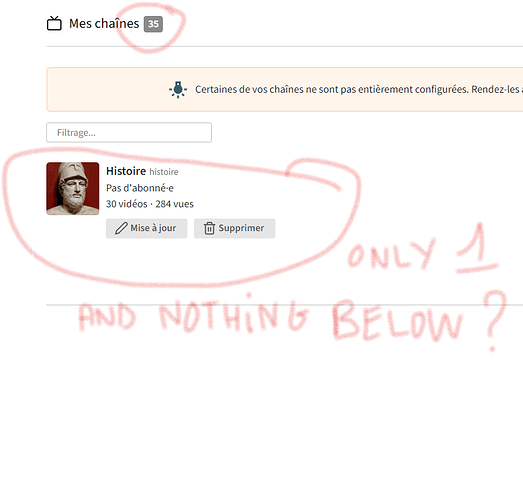 ---